Looking to Sell Your Business? Taking on a Partner? Need to Raise Capital?
Learn how to increase the actual valuation of your business by tapping into intangible assets—and grow the value of those intangibles—through our series of 8 short videos.
For a limited time, your first course is free!
Free LessonCourse Offering
What are intangible assets? How much value do they add?
Most of the time when business valuations are done for small to mid-sized companies, the intangible assets described in this pyramid aren't assigned any value. By including these intangible assets, your business can see an increase in value of anywhere from 5% to 20%.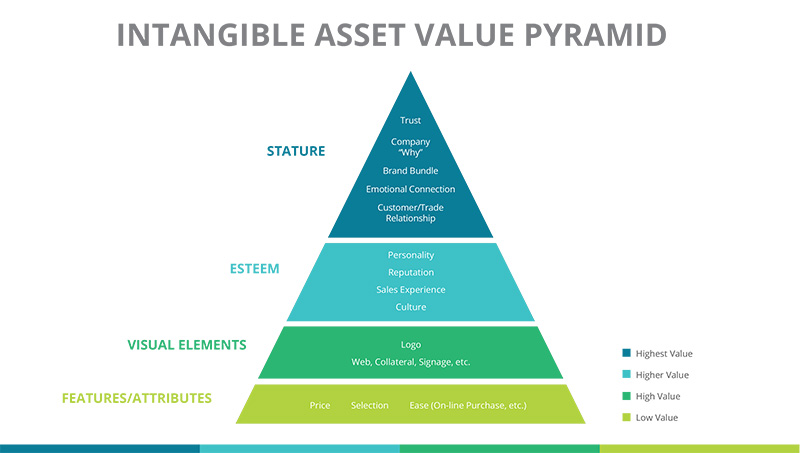 By taking these courses below, you will not only learn how to determine the initial value of your intangible assets, but also how to grow that value by as much as 50% – 70% over time.
Free LessonCourse Offering
Why Take the Time?
In most successful enterprises, only 25% to 33% of their value is derived from tangible assets. A much larger portion, 66% to 75% is in intangible assets.
Well-branded companies with high intangible asset values tend to deliver greater profitability and growth while at the same time reducing risk.
Emotional connection, reputation, social contribution and proprietary offerings play an enormous role in securing a sale and then motivating a repeat sale or referral.
Through this series, you will learn how to not only calculate the current value these intangible assets bring to your business, but also how to grow that value over time!