Have you ever thought about selling your business? Sooner or later, we all need to address succession. Or, how about a merger or taking on a partner? Do you want to attract more talented people? Sure, we all do. And lastly, do you need or want to raise some capital? Well, there is a sure-fire way to improve your odds of success at any and all of these. It's in the value of your company's intangible assets.
People with interest in your company can soon become absorbed by your company when attention is focused on these simple, yet highly valuable virtues.
I first came upon a study by the C.J. Patrick Company back in 2001.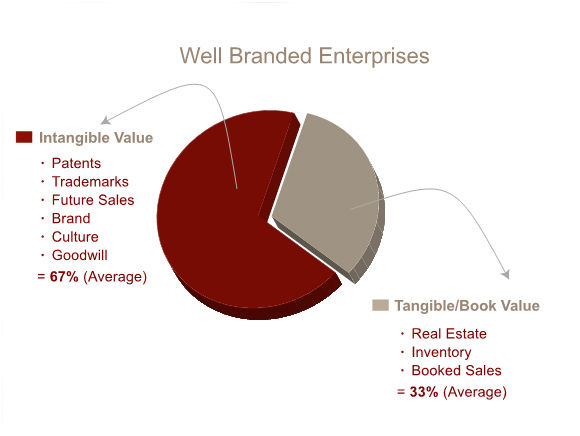 This study suggests that on average, for the Fortune 500 companies, only 33% of their book value was attributed to tangible assets and 67% to intangibles—tangibles being real estate, inventory, booked sales and such; intangible assets being patents, trademarks, future sales, brand, company culture and goodwill, among others.
So if you want to sell, merge, attract talent or raise capital, it makes sense to increase the value of your company. But not by buying or building another plant or stockpiling inventory or adding more sales staff. No, the most economical and easiest way to increase the value of your company is through intangibles.
So now you're asking: What are my intangible assets?
Let's look at this pyramid graphic.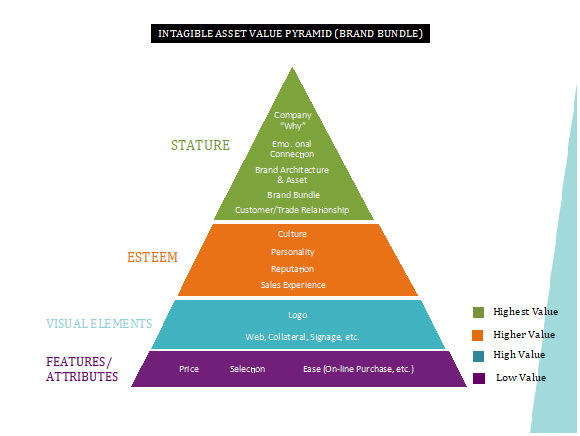 At the bottom, you see Price, Selection and Ease. Don't spend any time here—there is very little value in any of these and you all have them.
But, come up to the next level to Visual Elements. Here you can see early steps of intangible asset value building. These visual elements are the first opportunity to distinguish your brand from its competitions. The logo, collateral materials, Web site and more are all mandatory for increased value.
Next level, Brand Esteem.
Your company culture can be the single most valuable intangible asset there is. I love to point to Zappos as one of the great examples so far in the 21st century. If you haven't seen the Zappos Family Video before, or any of the other Zappos YouTube videos, you need to. Yes, they are extreme examples—but remarkable examples of fresh thinking and extraordinary leadership.
Note: Zappos sold to Amazon in 2009 for $2.9 billion—about three times the value of the company's inventory, warehouses and the headquarters building in Henderson, Nevada.
By now I hope you're starting to see how building intangible asset value is growing the value and worth of your company or organization. When a potential buyer is looking at your company as well as others, he will be very attracted to the company that demonstrates the potential for the most value.
So, let's continue up the pyramid toward that real brand distinction and value —Brand Esteem.
Sales Experience
To grow the value of your business, add a sales experience that is second-to-none. Make the customer love doing business with you and your company. Most will put price aside if the experience is enjoyable.
Placing value on the sales experience can be rewarding in many ways. Rewarding to the sales associates, those who deliver the goods and every employee who gains from the positive feedback from customers. Plus, investors and prospective employees see happy customers for life.
Reputation
Reputation can be the vanguard of a good, highly valued business. This is assuming, of course, that the business' reputation is a good one. Being known for gouging or ripping off customers does not qualify in the brand value game. A valuable brand is known for doing good, treating customers, suppliers, associates and others appropriately and also for being honest, trustworthy, upstanding corporate citizens.
There's an old story that if you broke a hammer that you purchased from Sears 20 years ago, they would replace it. Careful attention to reputation building is essential to intangible asset value building.
Personality
Everyone knows a grumpy old mechanic or plumber or instructor.
Somehow that behavior was or is acceptable because you knew that under that crusty facade was a good heart. Well, that's not a terrific intangible asset.
Brands that are quirky, brash or even savoir-faire can have strength though, but only if that's the personality its audience is attracted to or relates with.
Putting the word "Juicy" on the butt of a pair of expensive sweat pants may not appeal to an older audience. But, the 16 to 24-year-old females seem to find them attractive. Juicy Couture is a very successful retail operation.
Let's head all the way to the top of the pyramid to Brand Merit. Now we're getting up to the high-value area.
Relationships
What does the relationship your company has with its customers and trades have to do with intangible asset value? Everything. When customers really enjoy or find great value in your brand and products, they tell others. They sometimes wear your logo as a badge. Look at the golf clothing industry or Nike or many others. That relationship means repeat and referral sales and again, customers for life.
Let's say you were introduced to the manager of a tire store when you were in the market for tires. And at the point of sale—where you were treated well, got a reasonable deal and the product worked—you began the first step in a relationship with that store manager and his or her brand of tire store. You probably continued to buy tires there. More than likely you introduced a friend or relative as well. And on and on and on. Relationships are very important to brand value. Why? Because they can mean streamlined marketing and often less advertising spending.

Emotional Connection
Do you suffer from high turnover, especially with client-facing employees? What about leadership—do these people come and go? This can be a huge blow to a sound emotional connection with your customers. And what about the trades? They want to do business with the same people for extended periods of time also. When you have a good emotional connection with these audiences, trust develops. Where trust grows, like-mindedness grows. And when customers feel it, you will feel it with them as well. That means less pressure on price, more enjoyable negotiations and the ability to withstand an occasional misstep.
Investors and talented people recognize that keeping good employees employed and better yet, engaged with the company can mean greater sales, less risk and continued growth.
Brand/Asset Bundle
There is a very good chance that your company does something like none of your competitors. It's called proprietary processes. Maybe it is a manufacturing process or a really good customer service thing that you do. So that could mean that you have some patentable or trademark-able processes or procedures. The more TMs and patents you have, the more leadership you demonstrate.
And finally, the top of the brand value-building heap is Your Company Why.
Your Company's "WHY" is a real key to greater growth and expansion of value.
According to Simon Sinek in his book, "Start With Why," people would rather do business with you because of why you do what you do than for what you do.
There are dozens of examples in the book, too. But notably, why is Apple one of, if not the most, successful and valuable brands in the world? Sinek believes it's because Apple founders Jobs and Wozniak said early on:
"In everything we do, we will challenge the status quo." And that is how Apple can enter any category of technology, not with the newest features, but the most innovative new products. Apple's customers dig that!
A company's purpose, cause and belief are as important as the brand's offerings.
There are many other potentially valuable intangible assets in every company. To get a deeper, more detailed look at these and more intangible assets, check out the free class at growingworth.com. Plus, other classes on how to build their value, including instruction on how to measure and benchmark the monetary value of those assets.
If you're thinking of selling, make sure you place value on your intangible assets. And don't sell yourself short.